Cars & Trucks:
1954-Chevy 210 2-door sedan, all original interior with one exterior repaint years ago, 235, 6 cylinder, 3-speed on column. Car is very solid and very original. It has a rebuilt front-end and brakes. Rebuilt vacuum wiper motor and carb and has had a fresh tune-up. The car is an excellent candidate for a restoration to make a show car or is a great Sunday driver as is. SOLD!!!


---

1955-Chevy 1/2 ton, 6ft step-side bed. Shipped in from North Dakota. 6
cylinder, 4-speed. Super rare half year second generation truck with wrap
around rear window option. Solid complete truck needs full restoration.

---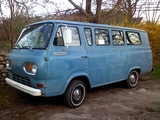 1967-Ford Econoline Supervan, extended all window cargo van. Super solid found in
warehouse after twenty years. 6 cylinder, 3-speed on column. Motor, suspension and brakes all rebuilt. Runs and drives like new, needs paint.


---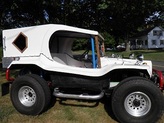 Dune Buggy 4X4, fully customized fiberglass dune buggy body built on a 1967
Jeep-Willys chassis, 4-cyclinder hurricane engine, 3-speed manual transmission,
35" tires, full custom roll cage, quick release steering wheel, 8,000 lb. Wench,
full gauge cluster and tach. Looks sharp with a white and multi-colored flake
paint job. Able to drive up sand dunes where other dune buggies can't.

---
1967 Plymouth Valiant 100 Series. Midwestern car very solid original with one repaint. Excellent running slant 6 cyclinder with an automatic transmission. Has had a complete tune-up, new plugs, wires, distributor cap, rotor, points, condenser and gaskets. The engine has been cleaned, painted and detailed. New
transmission lines installed and filter kit. New exhaust installed last season. Six
new tires, new gas tank and sending unit. Just finished installing new complete RH side floor pan (someone had patched this side with fiberglass over rust spots but I will not sell the car that way, the LH side is in excellent shape) whole floor is coated with POR 15, a new carpet and trunk mat. The dash, headliner and door panels are all perfect, needs only the front and rear seats reupholstered which gives you the option to install front buckets. We purchased from a local hot rod shop who had already installed frame connectors underneath. I had planned on installing a low mileage 1975 365 hp 440 big block that I have in inventory, which could also be purchased separately, but at almost $4.00 a gallon decided to leave the 101 hp 170 in it. This is proven turn key car, my girl drove this all last summer getting over 20 mpg! Would make a great nostaglia street strip drag car or even great to drive as is. TRADED!!! (no longer available)
---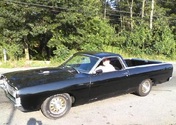 1968-Ford Ranchero GT. Extremely rare factory 390, 4-speed. Super solid New
Mexico car with rebuilt motor, new clutch and exhaust. Black and black interior.
Needs minor restoration to be a show stopper.

---
1971 Chevy C10. Got this truck in a trade. Good
solid truck with a 454 and 4 speed automatic.
New cowl induction hood, new rear bumper, new inner fender wells. New gas tank relocated under the bed and other new parts including exhaust, radiator, power steering pump, alternator, flex plate, oil pump, oil pan, master cycliner, calipers, brakes, all new rubber bushings and hardware on body, and many more parts. When I got this truck the motor was yellow, when we changed the flex plate I had the motor pulled and repainted Chevy orange the way it should be.
Everywhere you look a lot of time and money was spent on this truck. Sold!!!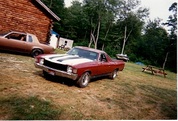 1972-El Camino. Has a 454 big block bored to 468, ex-truck pull engine.
Automatic with horseshoe console shifter. B & M master rebuild kit and hole
shot 2400 stall converter. 12 bolt posi rear end. Red with black interior,
bucket seats. Have 80% of parts needed to complete restoration. Car is being set up for nostalgia drag racing by TTM Motorsports

---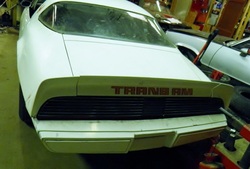 1981 Trans Am Firebird project/ drag strip street car. Rolling and steering shell, no wiring or dash. Very solid back half, excellent quarters, floors, rockers, trunk, etc. doors are swinging but gutted. No front fenders. 4" fiberglass lift-off cowl hood, complete steering column. complete and still sealed brakes/hydraulics, straight solid front clip, 8 point cage welded in. Excellent trunk lid and rear spoiler, complete with taillights. 10 bolt with new auburn posi with 4.11's,
never run, needs to be set up, has tractions bars installed also. Has
original seats and comes with special edition black trans am bucket front and rear seats. Will make a nice drag car or a great parts car if yours is rotted. SOLD!!!


---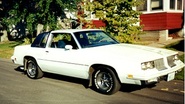 1981-Olds Cutlass Supreme. Car is a true sleeper with a built 350 small block w/Holley double pumper with ram air system. Dual electric fans. Turbo 350 automatic trans with TCI master rebuild kit w/TCI street fighter 3500 stall converter. Grand National posi rear end with sway bar. Bright white w/blue pearl flop, new teal blue interior. Car was painted many years ago and could use a repaint.

---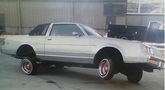 1987-Buick Regal Presidential Low-Rider. Original 89,000 mile car with black cloth roof. Pro-Hopper hydraulics with a 10-switch box. Dayton wire wheels. Fresh out of paint shop with a custom 4-stage paint job--3 coats of silver base, 3 coats of violet pearl, followed by 2 coats of gold metal flake, and then 4 coats of clear. All pinstripes and factory emblems/lettering (Regal Limited, Presidential, Buick) have been hand painted in House of Color gold and dark purple. Gray interior with double padded seats. SOLD!!!
---

1997-Chevy Camero Z28. This is a 30th Anniversary Edition documented sent from factory to SLP Engineering for modification including SS performance package. Car has 350, 6-speed, four wheel disc, posi rear end with 125,000 on the odometer. Has tan leather interior and all options including t-tops. Lots of after market parts including performance heads and MSD ignition parts. Car needs paint and odds/ends.
---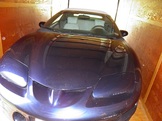 1999-Pontiac TransAm Convertible. Matching numbers, LS-1 car. 300 horsepower
350, 4-speed automatic, 373 posi rear end. Blue with white top and white
leather interior. SLP struts and suspension with high speed rain tires.

---